Advanced Rock Climbing Techniques
Intended for anyone with previous rock climbing experience interested in learning advanced techniques for climbing a variety of vertical terrain.
cracks, faces, slabs, chimneys

belaying a leader

placing & removing protection

following a traditional climb

multi-pitch rappelling
Top-Rope Anchor Building
For the novice climber interested in learning the proper way to build bomber top-rope anchors with the focus on bottom-belayed scenarios.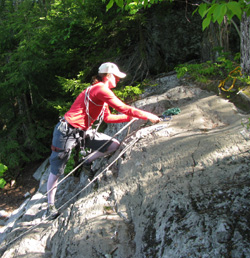 Advanced Top-Rope Anchors
Intended for the beginning to intermediate climber interested in learning anchor building techniques for special scenarios along with some rescue techniques.
tpp belays

extended anchors

belay escapes

climbing assists

simple hauling methods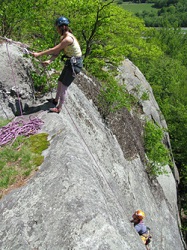 Single Pitch Traditional Lead Climbing
For those with experience climbing on a variety of terrain who are interested in starting to lead single pitch climbs using traditional protection (nuts, cams, etc).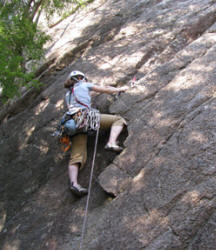 Multi-Pitch Traditional Lead Climbing
Intended for climbers who have some experience leading traditional routes and would like to venture onto longer multi-pitch climbs.
trad anchors

hanging belays

rope management

double rope techniques

multi-pitch rappels

traverses & pendulums

double rope techniques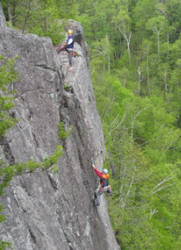 Advanced Rope Techniques
Learn how to utilize your ropes for performing advanced maneuvers on rock which are essential skills for being self-reliant in the vertical world.
aid climbing techniques

ascending a rope

rope transfers

hauling systems

managing a haul bag

rescue techniques

self belay methods