Tour de Adirondacks
4 Day Tour Around the Heart of the Adirondacks
Here's a great ride around the Adirondacks which circles the northern section of the park through some great scenery on good roads. At just under 300 miles and with over 17,000' of climbing it certainly requires some effort, but is easily doable for the average person in less than a week. I did the 294 miles in 4 days which may be pushing it for some people, but the route can be broken up into shorter sections to accommodate different riding abilities and fitness levels. This trip can be done on your own or our guide service can provide you with any support you may need to complete this trip.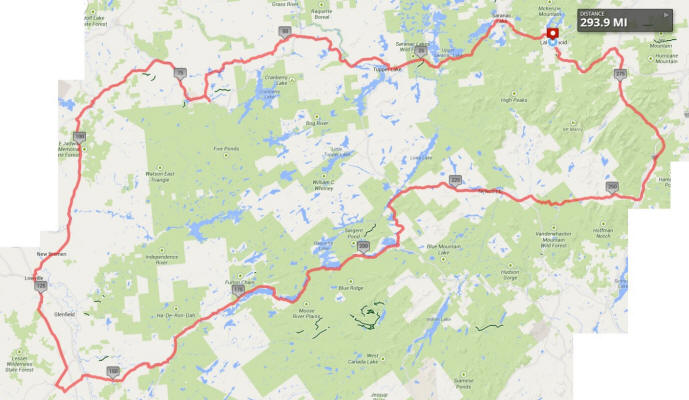 <![if !vml]>

<![endif]>
What you'll need:
There's a lot of information out there about taking a month long bike trip and being self-sufficient for weeks on end, but here the focus is for the casual bike tourist looking to get away for a few days without breaking the wallet. I'll use my bike and gear as an example of what you'll need, but there are obviously other options available.
Plan your trip around the weather. Unless you're on a 2000 mile journey across the USA there is no reason to ride in pouring rain and your gear choice should be based on that. Have a rain jacket and pants in case you get caught in the rain but you don't need to invest in absolutely water impenetrable panniers and bags.

The Bike
My thoughts on the bike are that it must be comfortable to ride for 6-8 hours at a time, and my experience is that nothing is more comfortable than steel (I've been an avid cyclist for over 25 years and have ridden all sorts of bikes). The Surly Pacer was designed with all-day comfort in mind rather than race inspired geometry that will rattle your bones on every bump in the road. The other consideration in choosing a frame material is the durability in the event of a crash. Even a minor crash can tweek your bike frame but steel can be bent back so that the bike is at least rideable. Carbon Fiber frames can crack in an impact and aluminum frames may crack if you attempt to bend them straight again (see "cold working aluminum"). Titanium is great if you can afford it. Other materials may be lighter but frame weight is less important when you strap an extra 20+ lbs of gear to it. So my vote is for steel if you're planning on a multi-day trip with no sag wagon, but choose whatever is best for you.
My Bike:
2014 Surly Pacer
chromoly steel frame with attachment points (braze-on's) for fenders or a light rack
Shimano 105 with 50/34T chainrings and 12/28 cassette
700x28c tires
<![if !vml]>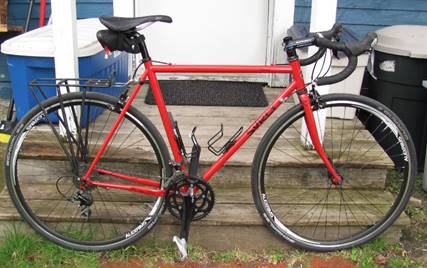 <![endif]>


Bags
There are several options to choose from in terms of packing your gear on your bike, and most of them are more suited for multi-week trips and are overkill for anything less than a week on the road. The Blackburn EX-1 is the original and still very popular due to it's simplicity and durable construction. It is capable of holding up to 40 lbs, though even that is more than you'll need for 3-5 days (my packed gear weighed in at just under 20 lbs) and a small set of panniers will hold everything I've got listed below.
My Rack & Panniers:
Blackburn EX-1
Detours D2R Small Panniers (about 1200 cubic inches of storage space)
<![if !vml]>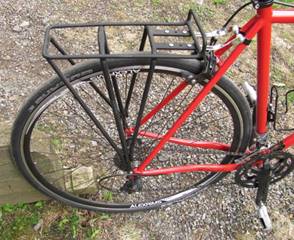 <![endif]> <![if !vml]>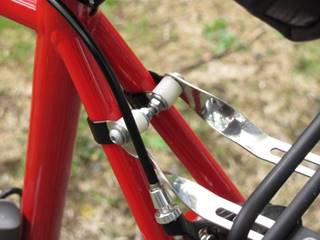 <![endif]>
Clothing
You're going to be riding most of the day so don't bring a bunch of extra clothing that you won't end up wearing, a couple pairs of shorts (or short liners) and jerseys with multiple pairs of socks would be plenty. Also bring a windbreaker and thin fleece top that you can wear while riding should the air get cool along with some light gloves and a hat you can wear under your helmet. A pair of pants that you can ride in if it gets cool can double as something to wear in the evening. Bring a pair of light shoes with a tread and closed toes in case you need to bushwack to find a campsite (I used some close-toed sandles/water shoes since they let my feet air out). Having a puffy down jacket in the Adirondacks at night is also a good idea and it doubles as a nice pillow (just make sure it compressed into a small stuff sack).
My Clothing:

1 pair of shorts




3 pairs of short liners




3 pairs of cycling socks




2 jerseys (short sleeve)




1 long sleeve base layer (powerstretch fleece)




1 lightweight windbreaker




1 pair of windproof softshell multi-sport pants




1 rain jacket




1 pair of rain pants

down puffy jacket
cycling shoes
light hiking shoes or water shoes
lightweight gloves
light fleece hat/beanie

helmet
Sleeping Gear
There are motels and campgrounds along the way in the Adirondacks but I prefer to sleep outdoors and I'm not fond of public campsites with giant RV's and smoke billowing campfires. Fortunately in the Adirondacks you can camp anywhere on state land given that you are at least 150' from any road, trail, or stream, and not in an area designated by "no camping" signs. Given this I was able to just wheel my bike into the woods until I found a suitable clearing and lay out my bivy sack for the night. Again, I wasn't cooking or building a fire, I was just laying down to go to sleep so I kept my impact at a minimum. Down or synthetic sleeping bags will both work, but pick the lightest and most compressible rated to 30F or better with a light weight sleeping pad.
My Sleeping Gear:
20F down sleeping bag
3/4 Thermarest sleeping pad
Black Diamond Spotlight Bivy Sack
<![if !vml]>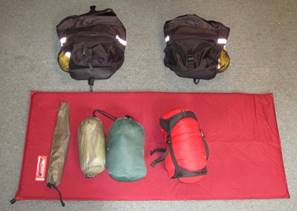 <![endif]> <![if !vml]>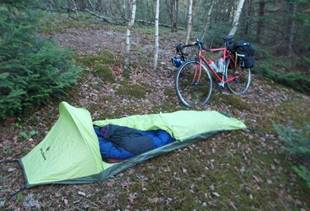 <![endif]>
<![if !supportLineBreakNewLine]>
<![endif]> Extra Gear
Bring 1/2 of what you think you'll need, but do bring some tools in case of an emergency and know how to do basic maintenance on your bike (Adventure-Science can offer a clinic on basic bike maintenance). There are plenty of convenient stores along the way to fill up water bottles (please buy something at these places and don't just use their facilities without being a paying customer), but having some water treatment tablets are a good backup (lighter and less bulky than a filter/pump). Bring a paper map and don't rely on your cellphone GPS. There are many areas in the Adirondack park without cell service. Also be sure to bring some sort of red tail light to have on in case you end up riding in the dark.
My Extra Gear:

2 bike tubes




patch kit




multi-wrench




spoke wrench




leatherman (pliers, knife, file)




zip ties




bandaids




medical tape




mosquito net




bug spray

sunblock
sunglasses

camera
toothbrush
water treatment tablets
headlamp
extra batteries

red blinking tail light
map
*cellphone
Food
There are plenty of good restaurants, diners, and well-equipped convenient stores along the way in the Adirondacks. At the end of a long day in the saddle the first thing I want to do is eat without the hassle of setting up my stove and waiting for water to boil then sitting on a log and trying to eat while swatting blackflies and mosquitos. I would stop at a convenient store in the morning for some coffee and a muffin or breakfast sandwich and to fill up my water bottles then have a good meal at the end of the day. I managed to keep it less than $15 per day total. I started with a pack of Fig Newtons and 6 bananas and they were gone by day 3.
My Food:
10 granola bars (chocolate, berries, nuts)
1 package of fig newtons
6 bananas
2 large water bottles
What you'll experience along the route:
Heading west out of Lake Placid on route 86 you'll pass through Saranac Lake and pick up route 3 west. Route 3 is a nice road with a wide shoulder to ride on and is mostly rolling hills but no major climbs. This part of the Adirondack Park is fairly remote with few businesses along the way. The scenery is characterized by the typical wooded forests, streams, and ponds. The further west you go the more the landscape turns into farm land with wide open views.
<![if !vml]>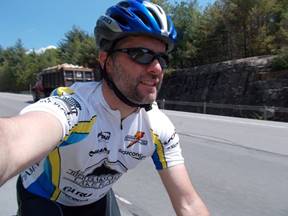 <![endif]> <![if !vml]>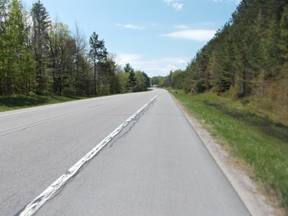 <![endif]>
<![if !vml]>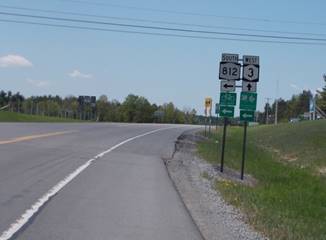 <![endif]> <![if !vml]>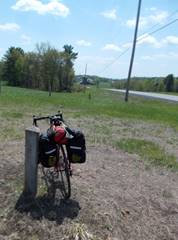 <![endif]>
Shortly past Harrisville the route heads south on route 812 towards Loweville. This section is technically just outside of the Adirondack Park border and is characterized by the small blue collar towns that upstate NY is known for. If you're lucky maybe you'll run into Peter Ostrum who played Charlie in the 1971 film Willie Wonka and the Chocolate Factory (rumor has it that he now lives and works as a veterinarian in Loweville). Just south of Loweville you can catch a glimpse of the large windmill farms on the Tug Hill Plateau.
<![if !vml]>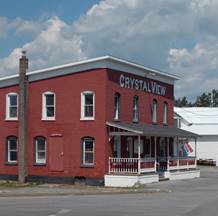 <![endif]> <![if !vml]>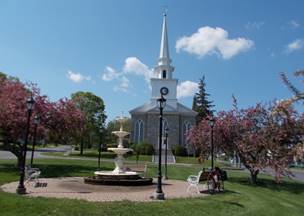 <![endif]>
<![if !vml]>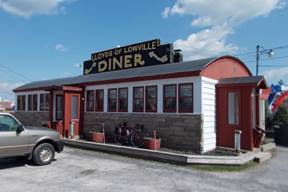 <![endif]> <![if !vml]>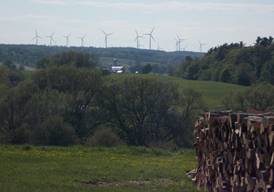 <![endif]>
The route then turns east in Port Leyden and heads back into the Adirondack Park, following the Moose River to route 28. Route 28 is a nice road with a wide shoulder that takes you to the town of Old Forge and then to Inlet. Old Forge has some great restaurants and the Enchanted Forest water park.
<![if !vml]>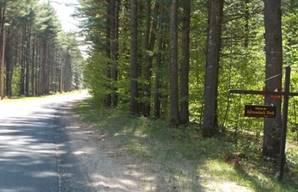 <![endif]> <![if !vml]>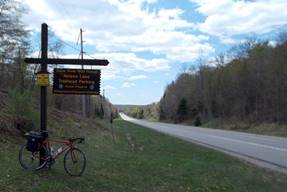 <![endif]>
<![if !vml]>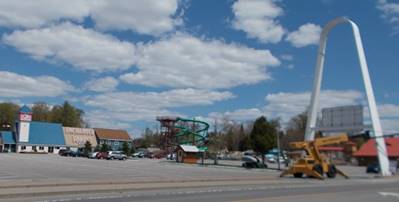 <![endif]> <![if !vml]>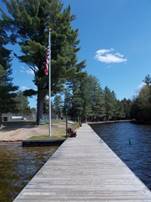 <![endif]>
Continuing north on route 28 past Inlet the road gets pretty hilly and surrounded by dense woods, but soon gives way to Raquett Lake, Blue Mountain Lake, and then Long Lake. There is one major hill leaving Blue Mountain Lake as you pass the Adirondack Museum, but once you're at the top it's mostly downhill to Long Lake.
<![if !vml]>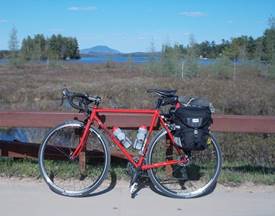 <![endif]> <![if !vml]>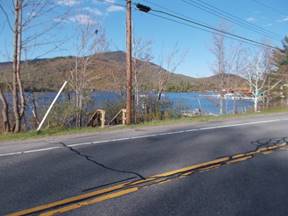 <![endif]>
From Long Lake the route heads east again through Newcomb where you'll pass the Hudson River and get a great view of the south side of the High Peaks.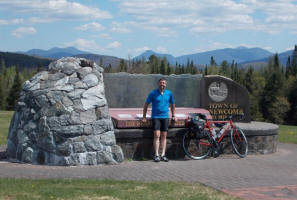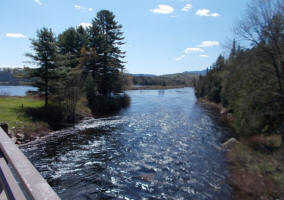 Just past Newcomb the route veers left onto route 2 and continues east to North Hudson. Parts of this road may be a little rough, but the riding is pretty easy except for a few gradual hills. Once in North Hudson you'll head north on route 9 which will take you into Keene Valley where you can stop at the Noonmark Diner and treat yourself to some homemade pie. The last part of the route is probably the hardest as it climbs route 73 back into Lake Placid.
<![if !vml]>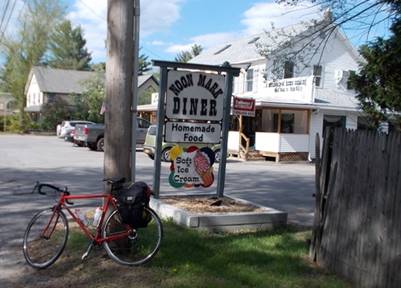 <![endif]>
<![if !vml]> <![endif]><![if !vml]>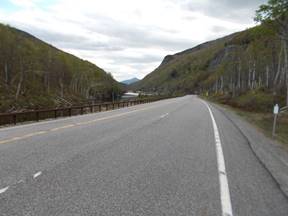 <![endif]> <![if !vml]>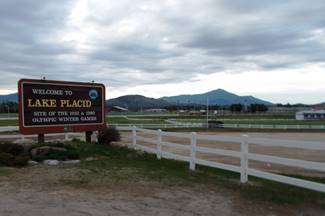 <![endif]>
Enjoy the ride and send us a report of your own experience!